Euro-Argo, EMSO and ICOS have long been carrying out ocean observations, with each research infrastructure (RI) using its own methodologies, its own instruments, its own data gathering processes, and so on. The three RIs, moreover, conduct observations from different parts of the water ocean: ICOS conducts surface ocean observations; Euro-Argo carries out both horizontal and vertical water column observations with extensive spatial coverage; and EMSO examines the seafloor observations.


GEORGE represents an opportunity for these three RIs to improve and harmonise data collection methods and ocean observation technologies through collaboration. But why did the three ERICs come together? How will three research infrastructures actually work together in practice? We sat down with members of each RI to ask them just that.


"We already work together. It's complicated!"


While GEORGE is a first example of these three research infrastructures working together on an ocean-specific project, it's actually not the first time they have collaborated.


"We have never been competitors – there has always been dialogue and exchanges of information between these ERICs," explains Janne-Markus Rintala, Science Officer at ICOS and the coordinator of GEORGE. "Instead, all share a common goal of understanding the basic functioning of Earth Systems, where oceans play a pivotal role."


When speaking with EMSO and Euro-Argo, the long-standing dialogue between RIs emerged as a driving force behind GEORGE.


"We've [Euro-Argo, EMSO and ICOS] already worked together in ENVRI – with ENVRI FAIR, ENVRIplus and ENVRI Hub" explains Yann-Hervé De Roeck, Director General of Euro-Argo ERIC. "That was about data – how do we manage data in a consistent way so that users can really make no difference between data coming from ICOS, EMSO, Euro-Argo or any infrastructure. Now there's a big effort to be consistent with the way data is collected."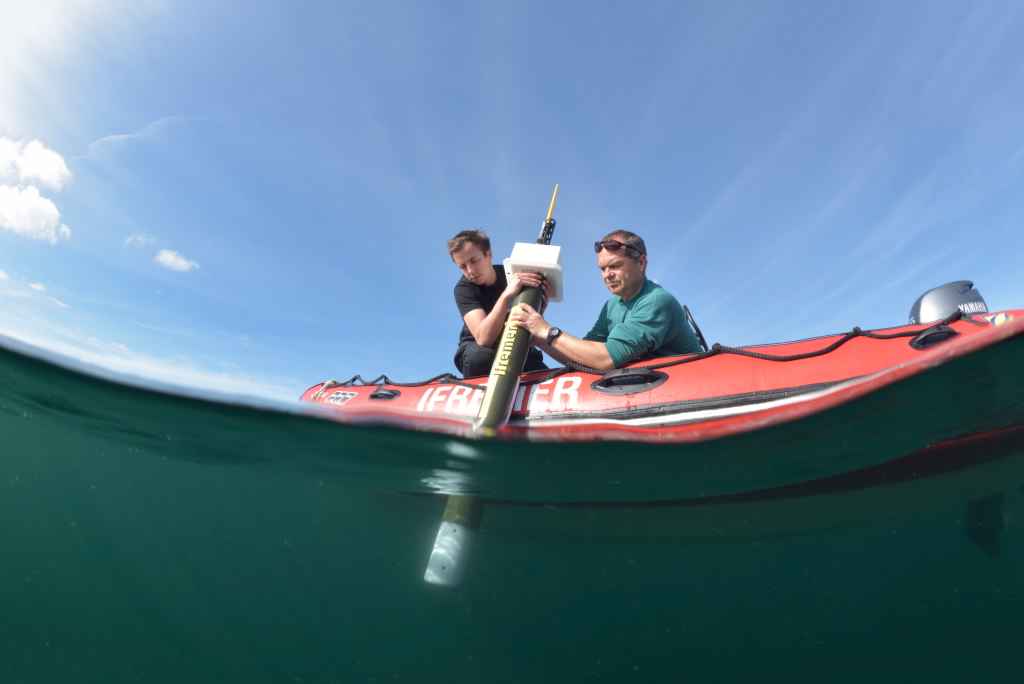 Euro-Argo carries out both horizontal and vertical water column observations. Picture by Olivier Dugornay/Ifremer.
As highlighted by Nadine Lanteri, who coordinates the EMSO French national branch, EMSO and Euro-Argo have already been collaborating for some time. "If you consider the development of the systems or the data management, for instance at Ifremer [the French Research Institute for Exploitation of the Sea] the same teams work for both Euro-Argo and EMSO. We are in the same space, using the same tools and methods. So at the ERIC-level you have several initiatives built on a common technical foundation."


So, what exactly is new then? Yann-Hervé from Euro-Argo and Nadine from EMSO both gave the same reply – working with ICOS. "One of the main drivers for Euro-Argo to get into the GEORGE project was collecting carbon dioxide measurements", explains Yann-Hervé. "Although we have sensors for measuring pH, chlorophyll-a and particle back-scattering, we don't have direct carbon dioxide measurements. It is crucial to be able to assess the carbon uptake by the ocean."


For Nadine, working with ICOS represents an opportunity to collaborate with and learn from a research infrastructure which is new to her. "Some of my EMSO colleagues are more familiar with ICOS, but for me this is new and very promising. There are best practices and know-how specific to each research infrastructure, so I think it's important to have collaborative projects like GEORGE. Ultimately, the field activities can really enhance mutual understanding between and expertise of the group."
There are best practices specific to each Research Infrastructure, so I think it's important to have collaborative projects like GEORGE.

Nadine Lanteri, Coordinator of the EMSO French national branch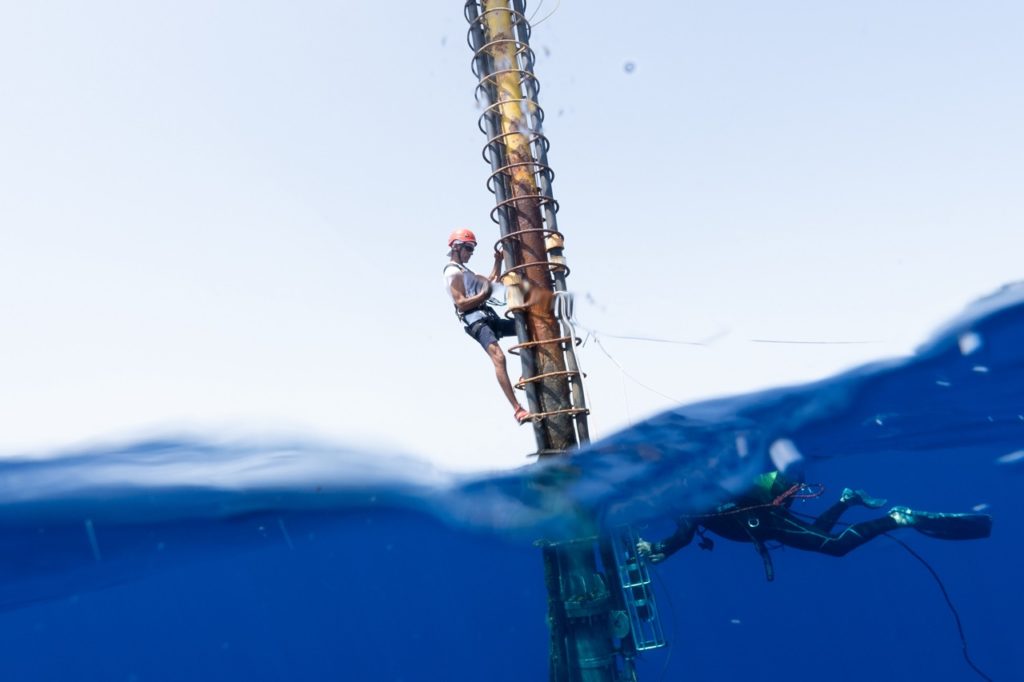 ICOS works with surface ocean measurements. Picture from the ICOS Lampedusa Ocean station in Italy by Pekka Pelkonen.

Deployment is key – but it should be collaborative

It's still early days for GEORGE, but there has already been some early collaboration. For Nadine, working on D5.1 (Technology validation and prototyping) has proved to be a valuable early output. "I think it's a good deliverable to start with – it's a sort of work plan charting everything that's happening, the development, the deployments, the sensors and so on." This provides the group members with an overall view of the expected achievements.


Looking forward, there's excitement among the RIs about the future collaboration. For Yann-Hervé, there are a lot of potential benefits. One aspect concerns the coming together of science and industry – "the three ERICs are very small markets, so if we can drive down the cost of sensors by having more usage, by driving more competition between the manufacturers, then that's really something good for all of us."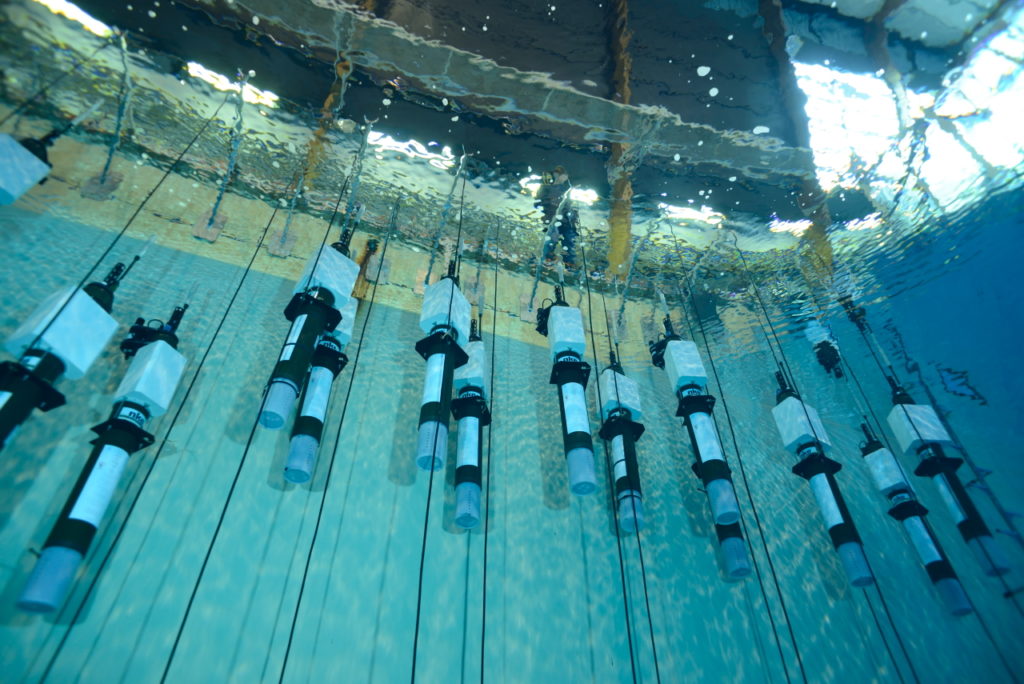 Biogeochemical Argo floats tested at Ifremer facility. Picture by Olivier Dugornay/Ifremer

For ICOS's Janne-Markus, there was a certain inevitability that the three ERICs would collaborate officially in some capacity. "All the partners are experts in their respective fields and are devoted to carrying out long-term environmental monitoring. This collaboration is like solving a puzzle where the pieces seamlessly fit together."


If we can drive down the cost of sensors by having more usage, by driving more competition between the manufacturers, that's really something good for all of us.

Yann-Hervé De Roeck, Director General of Euro-Argo ERIC

Collaboration on paper is one thing – actually coming together to share skills and expertise on a common task is the real essence of collaboration. "For the deployment, it's important to set objectives that ensure the infrastructures work together," says Nadine. "One risk in GEORGE could be having everyone at sea together, but simply doing their own thing – in that case, we would miss out on a really positive benefit of GEORGE – real collaboration. This was on our minds throughout the writeup of D5.1."

According to Yann-Herve, improvements in the quality of ocean data are GEORGE's biggest future impact. "From an ERIC point of view, it's not only that people can do research with data we provide – we're also doing our best with our tools to provide sound data which people can really trust. That's very, very important to me."

Ultimately, it's all about the data outcomes. "I'm most excited to see a joint data flow," Janne concludes. "This will provide something new for all these ERICs, and will also provide a more comprehensive view about the current state of our oceans."